Description
I am once again extremely pleased to announce the completion of this new product. This is opening one more possibility for a transmission swap behind any whiteblock swapped into a RWD chassis. This adapter will also allow you to adapt the Nissan 6 speed transmission to your 2JZ engine, either with a 2JZ stock flywheel and pressure plate combo, as well as the IS300 thicker flywheel and pressure plate assembly. You will need to source a J1 or J3 Bellhousing depending on your flywheel/pressure plate combo thickness. Contact me for more details.
CDx transmission can be found on any VQ Based Nissan car and the later CD009, CD5 and CD8 is the most preferred of all as it has received a few improvement over the years. They are well known for being able to handle 1000hp without being upgraded. They are becoming extremely popular for a 6-speed swap!
The adapter is CNC Machined out of billet 6061-T6 Aluminum and has dual bolt pattern that allow for a stock slanted engine or a vertical (straight) setup. It bolt to the engine using a 960 automatic bellhousing and is made to use an internal T56 style release bearing. The adapter kit comes with an AN-4 hydraulic line adapter for the release bearing that replace the stock GM quick connect. The setup we built the adapter around is using an 850R flywheel with a Sachs 765 Pressure Plate. A 1/8″ thick spacer is included with your adapter to get the perfect clutch disengagement; it will be needed for most installation. The included pilot bushing is made of OilLite bushing.
There is 3 different model of transmission with different input shaft bearing size that you can get. Refer to the picture at the bottom of the page and make sure you are ordering the right size for your box. A better way to make sure you get the right adapter is to remove the bearing cover on your transmission and measure the bearing size. All adapter are machined for 100mm bearing, and adapter ring are supplied for smaller bearing size.
What's included;
An Adapter Plate
4x M10 Flanged Zinc-Plated Bolt (BH to Adapter)
2x M12 Zinc-Plated Hex Head Bolt (BH to Adapter)
10x M8 Zinc-Plated SHCS (Adapter to Transmission)
1x M8 Flanged Zinc-Plated Bolt (Adapter to Transmission)
2x M6 Zinc-Plated SHCS (T56 Release Bearing to Adapter)
OEM Nissan Input Shaft Seal
OEM Nissan Bearing Cover Gasket
Pilot Bushing Sleeve
AN-4 line adapter for T56 Release Bearing
1/8″ Spacer for Release Bearing
0.02 oz Thread Sealant
Printed Instruction
The adapter kit comes with all required bolt to complete the installation. You will also get a new seal for the input shaft and a new bearing cover steel gasket. The kit comes with installation instruction that can also be downloaded here.
What you need to acquire;
A Transmission
A 960 Automatic Bellhousing
An early T56 Realease Bearing
A Clutch Master Cylinder with 7/8″ bore or more
A transmission mount – Available from the drop down menu
A Clutch Disc with the Nissan spline, sized to your flywheel
A transmission mount – I recommend the Energy 3.1108G Polyurethane support available from ebay or amazon.
What you need to know;
Unlike the Volvo M45/46/47 the CDx transmission doesn't have a removable bellhousing. You will need to cut the stock BH off the transmission. There is several video on youtube that shows how to do it, it is way easier than it may look. Cutting wheel and angle grinder available for purchase from the drop-down menu if you don't have these around
The Input Shaft need to be trimmed 1/4″
The Bellhousing needs to be notched for the hydraulic line and the bleeder port
The shifter will have to be relocated for both the 200 and 700/900 series as the stock Nissan shifter is mounted really far behind. I am working on both relocation kit but several option is already available
Tunnel Clearance have NOT been tested yet. If you need a bolt-on solution you are recommended to wait until a few user have tested out their adapter. I will not make any claim about fitment until I have heard back from a completed installation in both a 200 and a 700/900 series
The cut and exposed bellhousing is still a completely sealed unit and won't let water and dirt get inside the transmission. It's gonna be full of clutch disc dust when you cut it out.
A 3/4″ and under clutch master cylinder will not move sufficient fluid to disengage the clutch properly
Additional Informations;
You can use these picture to identify your transmission or one you are looking to buy.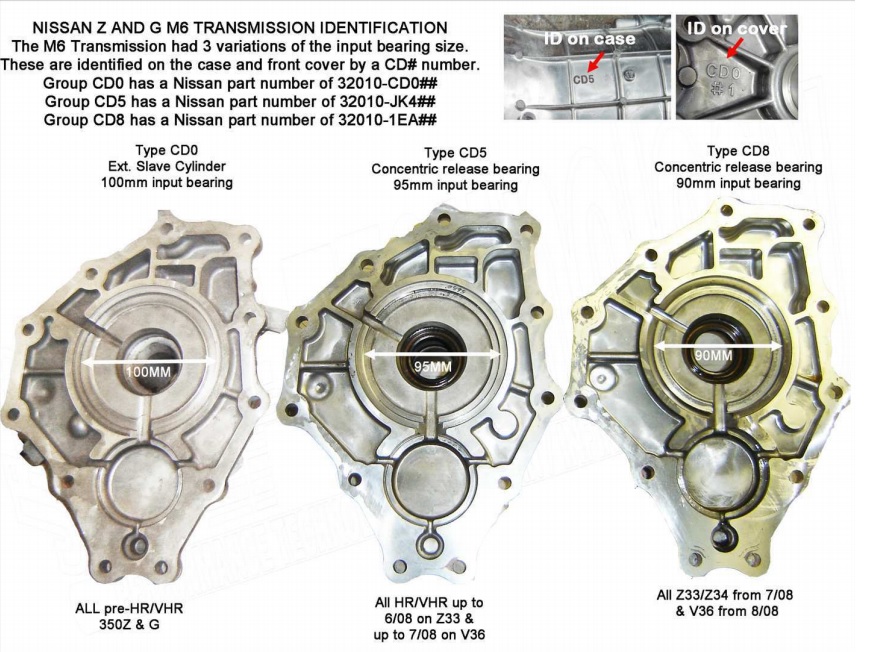 Gm has a few T56 release bearing model. The one you need is out of 98-02 Camaro with a 5.7l engine. Refer to the picture above for model identification.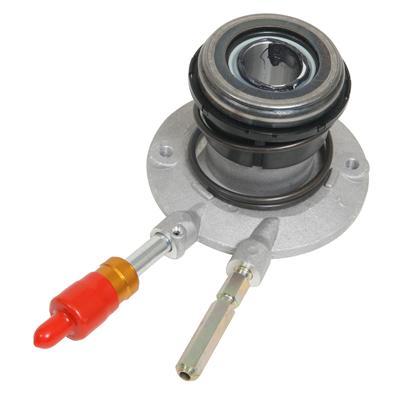 If you have question about the swap and this product, please contact me!